Category:
Equipment
State Traditions Introduces 2014 Apparel and Accessories Collection
Line Offers Golfers Unique Way to Show State, Team Pride

(BIRMINGHAM, AL) – State Traditions announces that its 2014 collection of state-inspired apparel and accessories is now available at finer green grass shops and resorts nationwide and on the brand's website http://www.statetraditions.com.

Using the outlines of all 50 states, State Traditions offers golfers a subtle, sophisticated alternative to flashy logos in order to celebrate state or fan pride. Each piece in the extensive collection – which includes caps, visors, polos, belts, neckwear, and button-front shirts – offers a choice of state silhouette in its respective flag pattern or colors reflective of its popular sports teams.

"Our brand connects emotionally with consumers, everyone has a home state, alma mater or favorite team," says Keith Brown, President of State Traditions. "Whether it's on a golf trip with buddies or at a gameday tailgate, our pieces communicate those feelings in a timeless way."

Retailing from $3 to $80, the State Traditions 2014 lineup is anchored by its robust headwear range. The 100-percent cotton caps and visors marry classic style with modern design elements suitable for both sporting and everyday activities.

Additional standouts include the brand's colorful belt program, featuring both embroidered and ribbon designs with brass and leather accents, along with short-sleeve polos crafted from ultra-soft Pima cotton and performance fabrics. These highly-versatile pieces transition seamlessly from the golf course to casual weekend wear.

A variety of non-apparel items are also available, including rocks glasses, premium ball markers and divot repair tools, iPhone covers and key fobs.

For more information: http://www.statetraditions.com, 205-254-8933. About State Traditions Based in Birmingham, Alabama, State Traditions creates top-notch, state and country-inspired apparel and accessories that reflect traditions across America and the world. The brand strives to connect customers with hometown pride, favorite pastimes and sporting allegiances through quality products and memories to last a lifetime. The State Traditions clothing line can be found in finer golf shops, men's clothiers, outdoor specialty stores and children's boutiques nationwide and via http://www.statetraditions.com, 205-254-8933. ###

March 13, 2014 | Category: Equipment
Posted By The Original Golf Blogger
Interact: Start a Forum Post | Email this entry
Galvin Green Launches Aron GORE-TEX® Rain Jacket Featuring Paclite® Technology


Leading-Edge Garment Boasts Ideal Combination of Ultralight Weather Protection and Extreme Breathability

(Växjö, Sweden) – Galvin Green – the world's leading maker of functional golf clothing for serious players and the No. 1 global golf partner of GORE-TEX – announces the introduction of Aron, its latest ultralight men's full zip jacket featuring GORE-TEX Paclite Technology.

A true player's piece preferred by Tour stars worldwide, Aron is totally waterproof and Guaranteed to Keep you Dry™. Engineered using sophisticated techniques that ensure ideal freedom of movement, it features:

GORE-TEX Stretch Fabric – Ergonomically applied to maximize playability and comfort, the stretch effect is used in different directions in distinct regions of the garment
Adjustable Chest Width – Tabs on each side of the back with touch-and-close fasteners
Angled Side Seams – Styled to avoid unnecessary fabric at the front that could impede the swing
Rain Channels – Wrist cuffs with an integrated rain channel that leads water away from the front of hands

"Aron is at its best when weight and space are critical yet you need to make certain to stay dry even in a driving rain," says Martin Nilsson, President of Galvin Green USA. "Combine that with the exceptional release of excess body heat and moisture and you've got the perfect outer shell in our Multi-Layer Concept."

Extremely durable, hard wearing and long lasting, Aron (MSRP $460) is available in five colors, sizes S-3XL. It can be maintained via machine wash and tumble dry.

An approach pioneered by Galvin Green more than a decade ago, the Multi-Layer Concept uses leading-edge fabric technologies to ensure the dry comfort, thermal regulation and outer protection that helps players optimize performance. Details on this and other elements of the company's "We Never Compromise" approach can be found at the new GalvinGreen.com.

About Galvin Green

Galvin Green is a family-owned business founded in 1990. A pure golf brand, its products – including premium outerwear, tops, bottoms and accessories – are available for purchase at better green grass shops and trendygolfusa.com.

Crafted by golfers for golfers, every garment and layer has been developed to be compatible – providing exceptional comfort, freedom of movement and protection from the elements. Each detail exists because the game demands it.

The line is worn in competition by scores of leading Tour players, including David Lynn (European Tour) and Caroline Masson (LPGA Tour).

For more information: http://www.galvingreen.com.

March 13, 2014 | Category: Equipment
Posted By The Original Golf Blogger
Interact: Start a Forum Post | Email this entry

Fila has released a line of waterproof performance jackets.T They feature breathable mesh lining, a detachable hood, self-adjustable velcro-sleeve closure, critical seam-sealing and microfleece lined neck and pockets. Available in a variety of bright bold colors, they arrive just in time for unpredictable spring rounds.
March 13, 2014 | Category: Equipment
Posted By The Original Golf Blogger
Interact: Start a Forum Post | Email this entry
ECCO Golf Signs PGA Tour Rookie Will Wilcox as Brand Ambassador

(Londonderry, NH) – Danish company ECCO – a leading manufacturer of innovative footwear – announces the signing of 2014 PGA Tour rookie Will Wilcox, who will showcase the company logo on his shirt collar and compete in its BIOM Golf shoes featuring award-winning NATURAL MOTION technology.

A 27-year-old native of Birmingham, Alabama, Wilcox earned his PGA Tour card by finishing No. 7 on the 2013 Web.com Tour money list. This came after a season that saw him win the South Georgia Classic and become only the fourth player in Web.com Tour history to shoot a 59 in competition (final round of Utah Championship).

In his first tournament wearing ECCO – the 2014 Sony Open in Hawaii – Wilcox finished T8.

"Will has a great story mixed with some serious skills and a proven ability to win," says Jesper Thuen, Global Sponsorship, PR & Event Manager – ECCO Golf. "As a young, up-and-coming player, he's an excellent complement to our roster of global stars."

Taught the game by his mother, Kim, who coaches the University of Alabama at Birmingham women's golf team, Wilcox was a nationally-ranked junior before becoming a three-time collegiate All-American. He turned professional in 2009, winning four times between the NGA Tour and Canadian Tour before his breakthrough campaign.

Among Wilcox's notable 2013 Web.com Tour stats: No. 1 in total driving, and consecutive cuts made (14); No. 2 in all-around ranking, and birdies per round; No. 6 in average driving distance (313 yards).

"I've worn my ECCO golf shoes in some very tough, wet conditions and have been really impressed by the comfort and durability," says Wilcox. "My first season on the PGA Tour is off to a great start and I'm humbled to join the likes of Freddie, Graeme and Ernie as an ECCO brand ambassador."

The BIOM Golf line of cleated shoes worn by Wilcox includes two special-edition Caldera leather models boasting a sleek, matte finish inspired by luxury automobiles. These are made using a special full-grain material that's stain resistant and easy-to-clean.

Each pair of BIOM Golf showcases a convention-breaking design based on the foot's natural system for absorbing impact. This distinctive technology relies on a completely anatomical last developed by scanning the feet of 2,500 athletes. It is exceptionally lightweight with a low profile that helps to form one of the game's most stable hitting platforms.

In addition to Wilcox, the ECCO Golf collection is endorsed by scores of Tour stars worldwide, including Fred Couples, Ernie Els, Graeme McDowell, Thomas Bjørn, Marcel Siem, Thongchai Jaidee, Andreas Hartø, Wu Ashun, JB Hansen, Belén Mozo, Caroline Masson and Gerina Piller.

About ECCO

ECCO, a world leading brand of shoes combining style and comfort, has built its success on quality and innovative technology. The design philosophy is rooted in the founder's approach to being a shoemaker – the shoe must follow the foot. The shoes of ECCO are anchored in functionality, quality and craftsmanship on the platform of Scandinavian design. Founded in 1963, ECCO is one of the few major shoe manufacturers in the world to own and manage every step of the shoemaking process. Today, ECCO products are sold in 91 countries at 1,100 ECCO stores and 14,000 other sales locations. The company is family-owned and the workplace to 19,500 employees from over 50 countries. In 2012, revenue increased by 14% to DKK 8 billion with profits before tax of DKK 1.1 billion.

ECCO USA is based in Londonderry, New Hampshire. For more information: http://www.eccousa.com, 800.886.3226.

March 12, 2014 | Category: Equipment
Posted By The Original Golf Blogger
Interact: Start a Forum Post | Email this entry

Nike's new 2014 line of RZN balls feature four different models for four different types of games.

RZN Platinum: Tour Performance control and moderate spin
RZN Black: Tour Performance distance and lower spin
RZN Red: Distance Performance, longer carry
RZN White: Distance Performance and softer feel for a wide range of swing speeds

"Different golfers have different needs when it comes to the ball they should be playing," says Mike Pai, Global Product Director, Golf Balls & Bags. "There's a RZN for everybody – whether you're a beginner or have been playing the sport your whole life, the RZN Recommender is a great tool that utilizes a strategic, streamlined approach to make sure you have the right ball in your bag, and help you understand why it will help your golf game."

All of the models feature Nike's Speedlock RZN core, which is designed for better energy transfer between the layers.

They're available now at GolfSmith: Nike RZN Balls
The full press release is below:

February 28, 2014 | Category: Equipment
Posted By The Original Golf Blogger
Interact: Start a Forum Post | Email this entry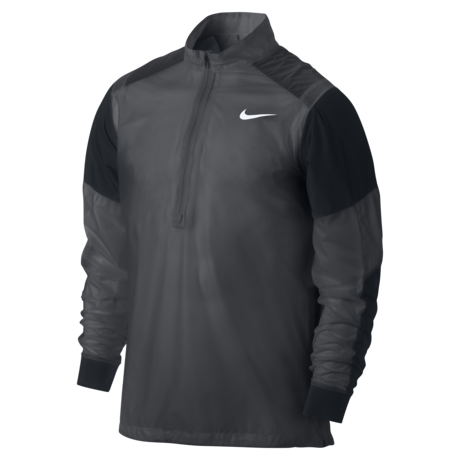 Nike Golf Introduces the Hyperadapt Wind Jacket

- Maximized range of motion meets ultra-lightweight protection from the elements -

BEAVERTON, Ore. (February 11, 2014) – Baggy, bigger and bulky used to be the standard go-to for outerwear on the golf course. Nike Golf changed that with the Hyperadapt Storm-FIT jacket in 2013, and with this year's new Hyperadapt Wind jacket, extra fabric and noisy, distracting swings are now null and void. The Hyperadapt Wind jacket features the same four-way stretch technology and sweater-like feel as the Hyperadapt Storm-FIT jacket in a lighter, windproof and rain-resistant version perfect for spring.

"With the Hyperadapt Wind jacket there's no need to 'size up' – it's designed to fit and move with your body," says Merritt Richardson, Nike Golf VP of Global Golf Apparel. "The four-way stretch laminate through the back, shoulders and upper arms maximizes range of motion and eliminates distractions, and the lightweight outer shell provides superior protection from the elements for all day performance and comfort on the course."

Inspired by a car with a see-through, engine-exposing hood one of the designers saw in a parking lot on Nike's Beaverton, Ore., campus, the Nike Golf apparel team incorporated a half-zip, transparent outer shell that showcases the jacket's technical details inside and out. A "v"-shaped panel underneath incorporates bonded mesh within the Hyperadapt construction for added breathability and mobility where golfers need it most.

In addition to a performance-driven design, the Hyperadapt Wind jacket is sustainable, too – recycled coffee grounds were used in part to make the windproof coating on the outer shell, which also helps reduce odor from perspiration and assists in UV protection.

The Hyperadapt Wind jacket features elastic cuffs to keep sleeves from moving up and down during a swing, as well as an adjustable waist and a back pocket for storage.

Nike Hyperadapt Wind Jacket

Availability: Now MSRP: $100 Colorways: Black/Black; Light Base Grey/Black; and Venom Green/Black

February 19, 2014 | Category: Equipment
Posted By The Original Golf Blogger
Interact: Start a Forum Post | Email this entry

Heavy Putter Extended Length Series Earns Golf Digest 2014 'Hot List' Honor


(SCOTTSDALE, AZ) – Boccieri Golf – maker of the Tour-proven Heavy Putter – announces that its new Extended Length (EL) Series has been named to the prestigious Golf Digest "Hot List" for 2014.

Determined by an independent panel of testers, this honor specifically recognizes the EL Series in the areas of "performance" and "innovation." Available in 21 different models, the putter offers a true alternative to anchoring by combining a longer than standard shaft – designed to extend beyond the hands – with the company's patented, Tour-proven weighting system. This features a heavier mass head and counter balance under the grip.

"We've been proclaiming the immense benefits of counter balancing for more than a decade and the industry's finally coming around to the fact that it creates superior performance," Stephen Boccieri, President and CEO of Boccieri Golf. "One reason belly putters became popular was because weight from the grip and shaft materials created a natural counter balance, but with the Heavy Putter players can achieve the same performance using a totally conforming club."

Each EL Series putter includes a strategically positioned 175-gram counterweight, which dramatically raises the putter's balance point. This creates the industry's highest MOI and delivers unmatched stability and consistency. As a result, the EL Series is equally suited to players who prefer regular length putters and those relying on belly or long models.

The annual Golf Digest "Hot List" list showcases equipment that has received the best reviews from the magazine's testers. A year-long process that begins with hundreds of clubs, the list is systematically reduced to the top performers.

Panelists' published comments about the EL Series included:

"The weighting makes sense. It feels soft at impact, but it's not muddled."
"It offers a ton of useful feedback. You know exactly where it'll go the moment you hit it."
"I can feel the consistency of the weight throughout the putter, no matter where I hit it." The line was also praised for its unique weighting system, which features three distinct categories to suit all preferences – LITE (840 grams), MID (865 grams) and HEAVY (930 grams). This stands in stark contrast to competing brands that offer only one or two models with longer shafts.

As with all Heavy Putter models, the extra weight of the EL Series engages the body's larger, more stable muscles to promote greater control with each stroke. Available in 36, 38 and 40-inch lengths, the EL Series is carried at leading retailers nationwide.

For more information: http://www.boccierigolf.com, 888.788.8374.

February 8, 2014 | Category: Equipment
Posted By The Original Golf Blogger
Interact: Start a Forum Post | Email this entry