Sunningdale Golf & Country Club and LondonOntarioGolf.com will host the third annual Heart Award ceremony. This year, Sunningdale Director of Golf Patty Howard is the Heart Award recipient. The award recognizes an individual who has unselfishly given back to the game of golf. All proceeds go to the Heart & Stroke Foundation of Ontario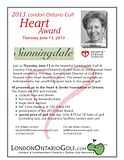 May 1, 2013
|
Category:
Charities
Posted By The Original Golf Blogger
Interact: Start a Forum Post | Email this entry
Adams Golf Adds to Award-Winning Hybrid Family with Idea SUPER 9031 and Idea SUPER DHy

PLANO, TEXAS, April 30, 2013 – Adams Golf announced the addition of the Idea SUPER 9031 and Idea SUPER DHy to its award-winning family of hybrids. Both models are geared toward low-to-mid handicap players and reflect Adams' renowned easy-to-hit for all skill levels philosophy.
Setting a new benchmark in their respective categories, the clubs utilize patented Velocity Slot Technology (VST) to increase ball speeds and promote additional distance. The SUPER 9031 improves upon its predecessor (Idea Pro Black 9031), with enhanced shaping and the use of slots to produce a hotter clubface. A new and better replacement for long irons that bridges the gap for better players, the Idea SUPER DHy, offers a penetrating ball flight with workability that is superior to today's standard irons.
"These new SUPER additions fill a gap that better golfers need – easy-to-hit clubs that go farther will also help them manipulate their shot shape," said Justin Honea, Director of Product Development. "Our Tour reps receive numerous requests each week from players wanting our hybrids with these different characteristics and we've delivered with the SUPER 9031 and SUPER DHy."
Idea SUPER 9031 Featuring an eye-pleasing compact 80cc clubhead, the SUPER 9031 combines a Cut-Thru sole slot with a refined crown slot. The result is faster ball speeds compared to non-slotted hybrids and traditional long irons. An ultra-thin 455 stainless steel clubface produces a trampoline effect approaching the USGA limit.
"Our goal was to improve what was already arguably the most popular hybrid on the PGA Tour, and we succeeded," said Michael Fox, Director of Global Product Management. "When you look at the performance characteristics combined with strategically-placed center of gravity toward the toe, SUPER 9031 is the ultimate players' hybrid."
Idea SUPER DHy Merging the unique attributes of a hybrid and a traditional long iron, the Idea SUPER DHy is a power-packed replacement. It gives the extra distance and forgiveness of a hybrid with the shot-shaping control and workability of a long iron. A unique bulge-and-roll face technology improves forgiveness and shot dispersion.
"We set out to design this club as an easier to hit alternative to most of the utility clubs on the market," added Fox. "Tour players consistently rave about its versatility and how ideally it launches the ball, with several asking if we can make them a full set of DHy irons!"
Models, Pricing and Availability The Idea SUPER 9031 Hybrid will feature the Mitsubishi Diamana D+ 82gram shaft (R, S and X flex) and be offered in lofts of 16°, 18°, 20° and 23° with left-handed models for 18° and 20°. It will carry an MSRP of $199.99, with a retail launch date of May 15, 2013.
The Idea SUPER DHy will come standard with the Matrix OZIK hX3 White Tie shaft in R, S and X flex. It will be available in lofts of 18°, 21°, 24° and 27° with left-handed models for 18°, 21° and 24°. It will carry an MSRP of $199.99, with a retail launch date of May 15, 2013.
Adams Golf, the maker of the #1 Hybrids played on the PGA Tour, based on 2012 usage reported by the Darrell Survey Co., offers a complete lineup of innovative, easy-to-hit products for golfers of all skill levels. For more information, please visit http://www.adamsgolf.com or shop.adamsgolf.com.
May 1, 2013
|
Category:
Equipment
Posted By The Original Golf Blogger
Interact: Start a Forum Post | Email this entry
New Start-up Brex Golf Announces Launch of BG-1 Golf Putter
Features Modular Hosel Design and Patented Alignment Aid
(Knoxville, Tennessee – April 30, 2013) — Brex Golf, a new golf equipment design and production company, located in Knoxville, Tenn., has launched the precision-milled Model BG-1 putter which won't be mistaken for any other putter on the market with its modular hosel design and patented alignment system. It is being sold directly to consumers from the Brex Golf website at http://www.BrexGolf.com.
"Brex Golf has done an excellent job in allowing golfers to custom build their own putters. With this new innovation in putter design and superior feel when the ball is coming off the face of the putter, draining more putts has never been easier." David Reed, Director of Instruction, Ruggles Ferry Golf Club, Strawberry Plains, Tenn.
The model BG-1 provides two distinguishing benefits to help golfers at all skill levels sink more putts.
With its modular design, the BG-1 putter enables golfers to get custom fit at home by allowing them to choose between three different hosels (the precisely engineered component that connects the head to the shaft). The hosel changes not only the look of the putter and the way it sets up at address, but it also affects the balance point (center-of-gravity) which changes the way the putter feels in the hands. A player can select the hosel that suits his eyes or the one that feels the best and matches his stroke.
For those golfers unsure about which hosel is best for their game, Brex Golf offers the Model BG-1 Complete Package, which includes all three hosels, shafts and grips. The player can try out and keep all three or select the one that works best and return the other two for a refund.
The second major benefit of the unique BG-1 putter is the Half-Pipe, a patented alignment aid (US Patent D581477) that guides the player's eyes over the ball, the optimum position for putting effectively. When the eyes are over the ball, the Half-Pipe's center line becomes a straight line. Additionally, the Half-Pipe is the width of a golf ball, helping to frame the ball and subconsciously aid the starting of the ball on the target line. The Half-Pipe is available in either white or black with contrasting paint fill.
Specifications: The body of the BG-1 putter is CNC milled from 303 stainless steel while the Half-Pipe is CNC milled from 6061 aluminum. All Model BG-1 putters come with a True Temper stepless shaft and white Iomic grip (black available on request).
• Head weight: 350g • Loft: 4 degrees • Lie: 71 degrees
According to Brett Burdick, Brex Golf founder and chief designer, in addition to producing high-performance products that provide good value, a driving design objective for the Model BG-1 putter and upcoming accessories is to produce products that will not be mistaken for those by any other manufacturer. It's clear that the Model BG-1 won't be confused with any other putter currently on the market.
Initial feedback for the Model BG-1 putter has been very positive:
"I really enjoyed experimenting with your putters last week at Holston Hills Country Club. Your concept of three hosels with one head is very good, and all the hosel/head combinations have very good feel and a solid strike. I would certainly recommend that golfers try your product! Regards." John Wylie, PGA Professional Emeritus, Holston Hills Country Club, Knoxville, Tenn.
"The Model BG-1 is so eloquently balanced and so well designed that it is a unique experience when using it. I truly appreciated the time you have taken to make sure it was the correct hosel and the correct length for my height. Much success to you and your new company." John Sanders, award-winning architect, Knoxville, TN
Brex Golf was founded in 2012 to produce truly innovative, high-quality golfing products that provide benefits to golfers' games at all skill levels. Brex Golf manufactures putters and accessories and will be expanding their offerings significantly in the upcoming year.
May 1, 2013
|
Category:
Equipment
Posted By The Original Golf Blogger
Interact: Start a Forum Post | Email this entry
IZOD FOCUSES ON GOLF:
BRINGS NEW MULTI-YEAR PLATFORM TO YEAR'S FIRST MAJOR GOLF TOURNAMENT

IZOD Sponsoring "MAXIM Clubhouse" and Unveiling Social Media Hub Live from Augusta
NEW YORK, April 8, 2013–PVH Corp. [NYSE: PVH] is taking its IZOD brand back to its roots in golf. The IZOD Golf platform includes a new ad campaign, multi-year sponsorships of three "Team IZOD" PGA TOUR golfers, and multiple sponsorship activations planned throughout the season. Fans will see several manifestations of the platform in connection with this year's first major tournament, the Masters, including sponsorship of the "MAXIM Clubhouse"; a robust IZOD social media presence; a launch party on April 10; a building wrap at Washington and Berckmans Roads; and advertising across TV, print and digital.
"We are thrilled to bring golfers the new world of IZOD Golf – with a new voice and new mindset," said Mike Kelly, Executive Vice President of Marketing, PVH. "IZOD is putting a new take on an old American tradition as we look to reach our target consumers, who are the younger golf nuts. Fans will see a strong emphasis on social media at the forefront of all of our activations."
IZOD's sponsorship of the "MAXIM Clubhouse" in Augusta is a first for the brand. IZOD will transform the back patio of the clubhouse into the "IZOD Social Media Hub," where there will be dedicated workstations for both media and brand partners, including PGA TOUR and SB Nation; Google + Hangouts will take place from the hub, as will fan giveaways; and live feeds of golf conversations on various social media networks will be streamed. IZOD will officially open its Social Media Hub with a kickoff party on the night of April 10.
In 2012, IZOD signed three PGA TOUR players—reigning U.S. Open Champion Webb Simpson, two-time PGA Tour winner Scott Piercy and rising star Spencer Levin—to multi-year partnerships to form "Team IZOD."
In March, IZOD debuted its "Living the Dream" commercial featuring Simpson as part of its comprehensive golf-inspired campaign, which includes on-air, print and digital advertisements that are running across NBC Sports, Golf Channel, Golf Digest, Golf Digest Stix and MAXIM. The commercial was filmed at Punta Espada Golf Club in Cap Cana, Dominican Republic.
Members of "Team IZOD" will be featured in point-of-sale at retail partners across the nation. Further, at Macy's stores in more than a dozen regional markets, IZOD and Honda are teaming up to give away 2013 Honda Accords and an IZOD shopping spree
On the recently relaunched IZOD.com, apparel worn by "Team IZOD" players will be featured and consumers will have the opportunity to purchase the styles through IZOD retail partner websites. For real-time updates and an inside look at the world of IZOD Golf, fans can follow IZOD Golf on IZOD's Facebook page, Twitter (@IZOD), Instagram (@IZOD ) and by using #TeamIZOD.
Additional activations for IZOD Golf over the course of the season will include sponsorship of the 125th Anniversary of Saint Andrew's Golf Club, the oldest golf club in the United States, and the IZOD/Webb Simpson Junior Championship, an AJGA event.
For the Saint Andrew's 125th Anniversary Celebration, IZOD will be the presenting sponsor of events, including Celebrity Golf Tournament on June 7 and Gala Dinner Dance at the Waldorf Astoria in New York City on June 8.
In August, IZOD will serve as the title sponsor an AJGA event at Bryan Park's Players Course in Browns Summit, NC.
###
About PVH Corp. PVH Corp., one of the world's largest apparel companies, owns and markets the iconic Calvin Klein and Tommy Hilfiger brands worldwide. It is the world's largest shirt and neckwear company and markets a variety of goods under its own brands, Van Heusen, Calvin Klein, Tommy Hilfiger, IZOD, ARROW, Bass, G.H. Bass & Co., Warner's and Olga, and its licensed brands, including Speedo, Geoffrey Beene, Kenneth Cole New York, Kenneth Cole Reaction, MICHAEL Michael Kors, Sean John, Chaps, Donald J. Trump Signature Collection, JOE Joseph Abboud, DKNY, Ike Behar and John Varvatos.
April 10, 2013
|
Category:
Equipment
Posted By The Original Golf Blogger
Interact: Start a Forum Post | Email this entry

Hilton Head Golf Island Announces 2013 Spring Golf Packages

Coastal Destination Offers Diverse Selection of Courses, Accommodations Available through May
(Hilton Head Island, S.C.) – Hilton Head Golf Island – a collection of more than 20 of the Lowcountry's premier golf courses – announces a diverse selection of stay-and-play packages available in April and May 2013.
Spring is the perfect time for a Hilton Head Island golf vacation when temperatures are ideal, the azaleas are in bloom and the PGA TOUR's RBC Heritage comes to the area. Ranked top 10 in seven categories by Golf Digest including "Best Buddies Trip Destination" and "Best Value," Hilton Head Golf Island offers an array of exceptional golf course and accommodation options.
Sample packages include:
Palmetto Dunes Oceanfront Resort Stay-and-Play Package: Stay three nights and play up to three rounds at each of the resort's championship courses, designed by Robert Trent Jones, Arthur Hills and George Fazio. Enjoy air conditioned carts, two hours of complimentary tennis court time daily, preferred rates on all other resort activities as well as dining and merchandise discounts. Rates start at $145 per golfer, per night. For package and reservation information: 866.809.1919, http://www.PalmettoDunes.com.
The Heritage Collection Stay-and-Play Special: Enjoy three nights at The Hampton Inn with daily breakfast included and three rounds of golf at any of the seven Heritage Collection courses including Oyster Reef and Palmetto Hall. Based on double occupancy, packages start at $155 per golfer, per night. For package and reservation information: 843-681-1706 or email .(JavaScript must be enabled to view this email address).
The Sea Pines Resort Golf Villa Package: Experience unlimited play at any three of Sea Pine's championship golf courses (Harbour Town Golf Links, Heron Point by Pete Dye and Ocean Course), private villa accommodations, complimentary range balls, 10 percent pro shop discount on retail merchandise, 10 percent food and beverage discount at the resort's restaurants, complimentary wireless internet and use of the resort's fitness center. Packages start at $162 per golfer, per night. To make a reservation, call 866.561.8802, http://www.SeaPinesGolf.com
"Thanks to the variety of packages available through Hilton Head Golf Island, golfers can tailor a visit to their specific playing ability and budget, whether it's a 'golf buddy' trip or casual family vacation," says Cary Corbitt, President of the Lowcountry Golf Course Owners Association.
As one of the nation's foremost golf meccas, the Lowcountry is the preferred vacation destination of golfers who seek a high-concentration of world-class quality courses, an unspoiled natural environment, beautiful resorts and inns and old-fashioned Southern hospitality. Each course on Hilton Head Island has its own set of unique characteristics and challenges to keep even the most skilled player motivated.
For additional information or to receive a quote: http://www.HiltonHeadGolfIsland.com, 800.523.3373.
About Hilton Head Golf Island
Hilton Head Golf Island features more than 20 member courses on Hilton Head and Fripp Islands, as well as Bluffton, Beaufort and Jasper counties. Golf enthusiasts can enjoy Hilton Head's Southern hospitality and world-class public and private designs sculpted by vaunted architects Pete Dye, Jack Nicklaus and Robert Trent Jones.
Its territory encompasses many of the great golf courses and resorts of North America and is ranked top 10 in seven categories by Golf Digest including "Best Buddies Trip Destination," "Best Accommodations," "Best Couples Trip," "Best Courses," "Best Food and Drink," "Best Weather" and "Best Value." Home to the world-renowned Sea Pines Resort, the PGA TOUR makes its only South Carolina stop each April at Harbour Town Golf Links for the RBC Heritage.
The Lowcountry Golf Course Owners Association, in conjunction with the Hilton Head Island-Bluffton Visitor and Conventions Bureau and Chamber of Commerce, launched Hilton Head Golf Island to support the island's thriving golf market through promotion of golf rounds and packages.
For additional information: http://www.HiltonHeadGolfIsland.com, 800.523.3373.
April 4, 2013
|
Category:
Tourism
Posted By The Original Golf Blogger
Interact: Start a Forum Post | Email this entry
Press Release BOGEY GOLF TOUR APRIL EVENTS:

APRIL 2013 Bogey Golf Tour RADIO CONTEST: Listen to AM800 and FM 93.9 the River for our Bogey Golf Tour radio ad and if you are the first one to call, email or Text Todd at the Bogey Golf Tour the date and time you heard our ad then you could win a FREE $60 Bogey Golf Tour 2013 membership good for Ontario and Michigan.
THUR April 11th, 2013- Bogey Golf Tour SIGN UP DAY- MASTERS PARTY from 3 p.m. till 7:30 p.m. at Walkerville Brewery 525 Argyle Rd. Windsor, Ontario N8Y 4Z8. Come watch the Masters on a 12 ft screen, enjoy the FREE HORS D'OEUVRES and sample all four of Walkerville's fantastic Brews (Pale Ale, Walkerville Black, Premium Lager, and Session 1 Kölsch-style Ale). Go to http://www.walkervillebrewery.com to find out more about these amazing beers. Chipping and putting contests with prizes. Bring a friend. Drop by for the fun, watch the masters, sign up for the tour, and register for tournaments. Go to http://www.bogeygolftour.com for more details.
ONTARIO CHAPTER APRIL TOURNAMENTS:
SAT-APRIL 20th, 2013- "Provincial Chrysler" BGT Players Championship at Seven Lakes golf course, shotgun start at 9 a.m. carts included for $75 tournament fee. Plus a chance to WIN a 2013 Dodge Dart with a hole in one compliments of "Provincial Chrysler". Go to http://www.bogeygolftour.com and click on "ONTARIO" for more details. Must register and pay tournament fee by Saturday April 13th, 2013 to guarantee your spot.
MICHIGAN CHAPTER APRIL TOURNAMENTS:
SUN-APRIL 28th, 2013- "93.9 The River" Season Opener at Cherry Creek Golf Club & Banquet Center, tee times starting at 12 noon, carts included for $65 tournament fee. Plus you could WIN a 2013 Dodge Dart with a hole in one compliments of "Telegraph and Southfield Chrysler". Go to http://www.bogeygolftour.com and click on "MICHIGAN" for more details. Must register and pay tournament fee by Saturday April 20th, 2013 to guarantee your spot.
We look forward to seeing you at one or more of these great events.
Feel like a pro, on the Bogey Golf Tour,
Todd Grondin Independent Financial Consultant "Celebrating 20 Years of Service!" Grondin Financial Group/Sterling Mutuals Inc. Ontario Investment/Insurance broker since 1993, Mutual Funds provided by Sterling Mutuals Inc. Specializing in Estate Settlements & Pension Rollover/Buyouts, accepting new clients by referral only 553 Estate Park Tecumseh, ON N8N 3C5 519-979-6261, toll free 1-800-683-0285 http://www.grondinfinancialgroup.com
BOGEY GOLF TOUR: http://www.bogeygolftour.com
April 4, 2013
|
Category:
Tours
Posted By The Original Golf Blogger
Interact: Start a Forum Post | Email this entry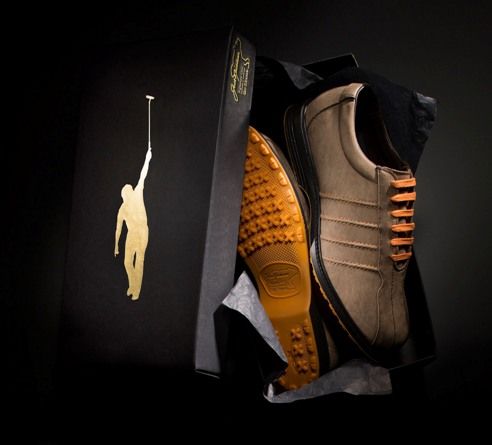 Allen Edmonds Partners with Jack Nicklaus to Introduce Signature Golf Line
Two American Icons Collaborate on Shoes and Gear
PORT WASHINGTON, Wis., April 3, 2013 /PRNewswire/—Golf legend Jack Nicklaus and the Allen Edmonds Shoe Corporation have collaborated to introduce the new Jack Nicklaus Signature Golf Line by Allen Edmonds, a comprehensive line of golf shoes and golf-related products respecting the traditions of the game and providing innovations for improved comfort and performance.
The new Jack Nicklaus Signature Golf Line will include three series of golf shoes, all named after some of the most renowned Nicklaus-designed courses. The Line also includes a number of accessories, such as socks, belts, hats, a glove, cedar shoetrees, and coasters.
"Allen Edmonds and Jack Nicklaus are two American icons who share the values of customer service, superior quality and classic tradition," said Paul Grangaard, CEO and president of Allen Edmonds. "As we collaborated on the Nicklaus Signature Golf Line, we embraced our mutual values of respect for the game of golf, authenticity, and American heritage."
Jack Nicklaus' Vision For New Line
"I was very involved with Allen Edmonds in the design, performance aspects, and look of this new Signature Line of golf shoes," Jack Nicklaus said. "Initially, I shared my vision of a golf shoe designed for stability from the ground up and for the modern golf swing. While I appreciate the athleticism of golf, I wanted a line that included both a current, comfortable athletic shoe, as well as a more classic design for this Signature shoe, combining performance, comfort and stability."
In addition to style features, the new golf shoes have been designed with innovative comfort and performance benefits, including a patent-pending Stability Rim sole, which provides a swing platform for greater traction and footwork stability. The sole is also spikeless—making it green friendly—and versatile enough to wear on and off the course. The entire line features full leather uppers, certified waterproof construction, and removable insoles for those who desire custom orthotics.
"I'm pretty tough when it comes to perfecting a design, so we went through a comprehensive design and development process," Nicklaus said. "In our first offering, we believe we have created core shoes that appeal to golfers of all skill levels and tastes in style. Allen Edmonds built a company and a brand-based commitment to design features that improve performance and comfort. This is a great fit for the high demands that come with a golf shoe."
Nicklaus has played in well over 700 professional tournaments, and in amassing his record 18 professional major championship titles, has walked over 11,000 holes in major championship play. So, he admits that such wear-and-tear on the feet, as well as decades of swinging into his left side, led to foot issues that many other golfers might take into account when choosing footwear.
The Golden Bear's Experience Inspired Line
"Mr. Nicklaus' personal experience playing golf, walking and designing courses, and his challenges with proper fit inspired us while designing and crafting this new line," Grangaard said. "We were fortunate to have him so involved in this process, one that spanned meetings with him in Florida, Muirfield Village in Ohio, and at our factory in Port Washington, Wisconsin."
The new Line features two distinct and complementary logos that reflect the spirit of Jack Nicklaus.
One is a simple icon silhouette of Jack Nicklaus taken from the "Yes Sir!" reaction to his birdie putt on the 17th hole of his historic final round in the 1986 Masters—the last of his record six Green Jackets. The other logo incorporates the Jack Nicklaus Golden Bear logo with Jack Nicklaus' brand signature and an embedded Allen Edmonds brand logo.
The Jack Nicklaus Signature Golf Line shoes will retail for $195 and are now available at golf specialty retailers, green-grass accounts, Allen Edmonds stores, and at allenedmonds.com.Shoes will be made to order and delivered in six to eight weeks.
All of the Signature Line styles come with multiple lace colors, and as with all Allen Edmonds shoes, are available in a full range of lengths and widths to meet all golfers' sizing needs.
About The Nicklaus Companies
For more than 40 years, the mission of the Nicklaus Companies has been to enhance the golf experience, and to bring to the national and international consumer, golf-related businesses and services that mirror the high standards established in the career and life of Jack Nicklaus. These services include golf-course design, the development of golf and real estate communities, and the marketing and licensing of golf products and services. Nicklaus Design, recognized as the world leader in golf course design, has been involved with over 375 courses open for play in 36 countries and 39 states.
About Allen Edmonds
Founded in 1922, Allen Edmonds Shoe Corporation is a privately held US-based manufacturer of premium men's footwear and accessories. The largest shoe cobbler in the world, Allen Edmonds is taking shoemaking to the level of an art form. The company's products are available at upscale stores worldwide, including 43 Allen Edmonds stores across the U.S., and online at http://www.allenedmonds.com.
SOURCE Allen Edmonds
April 3, 2013
|
Category:
Equipment
Posted By The Original Golf Blogger
Interact: Start a Forum Post | Email this entry