Category:
Books
The next best thing to playing golf is reading about it. Golf boasts one of the richest bodies of literature in all of sports. From Bernard Darwin to P.G. Wodehouse to John Updike to Dan Jenkins, there is something about golf that inspires the poet in all of us.
Hogan on the Green: A Detailed Analysis of the Revolutionary Putting Method of Golf Legend Ben Hogan
This looks interesting. I'll have a full eveiw in the coming weeks. from the publisher's materials:
Putting is golf's great equalizer, a seemingly simple aspect of the game whose surprising complexity has vexed both amateurs and pros for centuries. But now, for the first time ever, you can learn to putt like the legendary Ben Hogan, the winner of 9 major championships. Recognized by many as the greatest ball-striker and on-target tee-to-green player of all time, Hogan's prowess with the flat stick has often gone unnoticed. But Hogan's proficiency on the greens was like none other when it came to sinking difficult putts under high-stakes tournament conditions.

Hogan on the Green presents readers with a comprehensive, illustrated analysis of Hogan's revolutionary system for sinking short-, medium-, and long-range putts on a variety of surfaces. Complete with easy-to-follow instructions for setup and stroke techniques, as well as tips on putting strategy, practice, and mastering the mental game, this book is a unique and invaluable resource for those looking to perfect their putting. With anecdotal recollections and instructional commentary from those who knew Hogan best, including 1964 US Open champion Ken Venturi and Herbert Warren Wind, Hogan's collaborator on his classic 1957 bestseller, Five Lessons, Hogan on the Green also includes a host of practice drills and a special section of putting lessons from renowned golf coach Claude "Butch" Harmon Jr.
May 14, 2013
|
Category:
Books
Posted By The Original Golf Blogger
Interact: Permalink and Comments: 0 | Start a Forum Post | Email this entry
Free for at least today is Ice Hunter, a mystery involving a Conservation Officer in the wilds of Michigan's Upper Peninsula.
May 13, 2013
|
Category:
Books
Posted By The Original Golf Blogger
Interact: Permalink and Comments: 0 | Start a Forum Post | Email this entry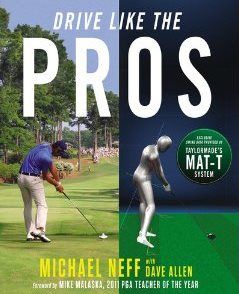 Drive Like the Pros: Increase Your Clubhead Speed and Distance Using Revolutionary 3-D Technology byTaylorMade
Drive Like The Pros has added itself to my reading queue:
The leading expert in 3-D golf instruction shows readers how to improve their golf game like the pros—with the unrivaled TaylorMade® MAT-T system.

Recreational golfers and touring professionals are turning to video swing analysis to improve their game, and the most state-of-the-art video system today is TaylorMade®'s MAT-T (Motion Analysis Technology by TaylorMade®) system.

Combining multiple high-speed cameras and specifically designed software to produce a three-dimensional, computer-animated image of a golfer's swing, the MAT-T system gives players of all handicaps the ability to compare their golf swings to the composite swing avatars of PGA players such as Dustin Johnson or Sergio Garcia, to see how the game's longest hitters align themselves and position their bodies throughout their golf swings.

Michael Neff, founder of the first TaylorMade® Performance Lab, has vast experience helping players like Dave Stockton, Natalie Gulbis, and Charles Wi use the MAT-T system to improve their swings. In Drive Like the Pros, he shows how golfers at all levels can adjust everything from the position of their shoulders to the club's angle of descent and spin as they:


• Increase clubhead speed, ball speed, and smash factor.
• Consistently contact the "sweet spot" on the clubface.
• Improve accuracy and have better control over misses.

Providing an unprecedented level of customized feedback and advice—and sharing exclusive championship player swing data previously available to only a handful of insiders—Drive Like the Pros is an essential addition to every golfer's library.
May 13, 2013
|
Category:
Books
Posted By The Original Golf Blogger
Interact: Permalink and Comments: 0 | Start a Forum Post | Email this entry
A new book showed up in the mail today: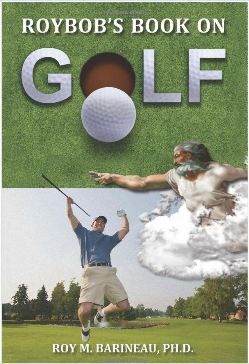 Roybob's Book on Golf: The Hucks, A Golfer's Divine Comedy, and a Religious Philosophy of Golf
May 10, 2013
|
Category:
Books
Posted By The Original Golf Blogger
Interact: Permalink and Comments: 0 | Start a Forum Post | Email this entry
An American Caddie in St. Andrews: Growing Up, Girls, and Looping on the Old Course
by Oliver Horovitz
Grade: A
Teacher's Comments: Enjoyable beach read.
My job in the summer between high school and college was running carney games at an amusement park. And while I suppose that there is a book in that somewhere, it won't be nearly as memorable or charming as Oliver Horovitz's.
Informed of a delay in his admission as a freshman to Harvard, Horovitz decides to spend that gap year at the University of St. Andrews. Then, as the University year ends, Horovitz gets a job as a caddie on the Old Course. He has a good season, working his way up from barely tolerated caddie trainee to regular looper, but at the end, Horovitz quits to go to Harvard.
The next year, the lure of the links is too much, and Horovitz returns for another season. And then another, and another. Along the way, Horovitz graduates from barely tolerated outsider in the caddie shack to respected veteran.
An American Caddie in St Andrews is full of insider views of the storied course's caddies, as well as vignettes of life in St. Andrews. It is also the story of a young man's maturation. A particularly poignant sequence centers around Horovitz's WWII veteran Uncle Ken, who lives in St. Andrews.
The subtitle is a bit deceiving: Growing Up, Girls and Looping On The Old Course. The "girls" don't play any significant part of the story. I think that the publisher put that in there to drum up sales. A better subtitle would be Growing Up, Uncles and Looping On The Old Course. But that wouldn't sell.
An American Caddie isn't deathless literature, but it is an enjoyable read. It is episodic in nature, almost along the lines of a weekly column, rather than a unified novel. That makes it perfect beach reading. You can pick it up, read a chapter and then put it down.
But you won't want to. You'll want to keep reading it through in one go.
Recommended
May 10, 2013
|
Category:
Books
Posted By The Original Golf Blogger
Interact: Permalink and Comments: 0 | Start a Forum Post | Email this entry
Walking with Jack: A Father's Journey to Become His Son's Caddie
Got this one in the mail today. From the publisher's material:
A long-standing promise from a father to his five-year-old son . . .

A poignant diary that chronicles the journey

When Don Snyder was teaching the game of golf to his young son, Jack, they made a pact: if one day Jack became good enough to play on a pro golf tour, Don would walk beside him as his caddie. Years later, Jack had developed into a standout college golfer, and Don, at the age of fifty-eight, left the comfort of his Maine home and moved to St. Andrews, Scotland, to learn from the best caddies in the world. He worked loops on famed courses like the Old Course and Kingsbarns, fought his way onto the rotation as a full-time caddie, and recorded the fascinating stories of golfers from every station in life. All the while, he lived like a monk and sent his earnings back home.

A world away, Jack endured his own arduous trials, rising through the ranks and battling within the college golf system. At times, the question for the teenage athlete wasn't how to continue . . . but whether to continue at all. Finally, Don and Jack approached the moment when they would reunite—and not only tackle an extraordinarily high level of golf competition but also confront the challenges of a father-son relationship that had inevitably changed since the days when their journey began.

Walking with Jack is a truly compelling golf story and a one-of-a-kind narrative that makes you appreciate the lengths to which a father will go to support his son.
May 7, 2013
|
Category:
Books
Posted By The Original Golf Blogger
Interact: Permalink and Comments: 0 | Start a Forum Post | Email this entry
If you believe the marketers, you're just "one weird trick" away from longer drives—and presumably lower golf scores. You're also just "one weird trick" away from losing weight, lowering your insurance bills, curing your acne and enhancing various body parts.
But that "one weird trick" isn't going to lower your golf scores (or do anything else for that matter). In fact, to play better golf, you don't need a "trick" at all. What you need to do is play SMARTER golf.
Playing smarter golf is what The GolfBlogger's first book, The Five Inch Course, is all about. It is available now in paperback and Kindle versions
through Amazon.
The print version is under $10. The e-book is under $3.
The "Five Inch Course" is a reference to Bobby Jones' quote that "competitive golf is played on a five and a half inch course: the space between your ears."
In The Five Inch Course, you'll find more than a hundred short essays designed to help players lower their scores by playing smarter golf. Reading The Five Inch Course won't result in extra yards or a cure for your slice. Rather, the aim of the book is to help you play better with the swing you already have.
The Five Inch Course offers concrete strategies you can put into play immediately. There's none of the Zen or mumbo jumbo that seems to dominate "mental game" books. Any player—from the occasional duffer to the scratch golfer—should be able to pick an idea or two and put them into play on their very next round.
I have been collecting these tips for years, and versions of many of them have appeared on this blog in the regular "Mental Mondays" column. They're short, to the point and I think, easily digestible.
Here's the blurb from the book jacket:
The Five Inch Course: Play better golf with the swing you already have.

In 1960, the average golf score was 100. Fifty years later, with all the innovations in clubs, balls and instruction, the average golf score is ... still 100. In fact, only 20 percent of all golfers will ever (honestly) break that mark.

More bad news: Barring a major investment in time and money, you're stuck with the swing you have. Tips from golf magazines, your buddies—even the occasional lesson from a pro—aren't going to result in long term improvement. Studies have shown that most players never get better than they are five years into their golfing "career."

However, this doesn't mean that lower scores are out of reach. The Five Inch Course offers more than a hundred strategies for improving your golf score without improving your swing. By playing smarter, more strategic golf, even weekend hackers can dramatically improve their scores without improving their swings.

The Five Inch Course currently is available on Amazon in both print and Kindle editions.
April 6, 2013
|
Category:
Books
Posted By The Original Golf Blogger
Interact: Permalink and Comments: 0 | Start a Forum Post | Email this entry