Category:
News
Tiger's back to world number one, and barring health issues, looks likely to stay there for the foreseeable future. The story at Bay Hill was the story of his career. Tiger gets into a lead, and then the players challenging him collapse. Rickie Fowler is just the latest in a long line of the victim of the jinx.
It's also a typical Tiger victory in that it comes on one of his favored courses. Fifty percent of his wins have come on just six courses: Torrey Pines (8 wins), Bay Hill (8), Doral (7), Firestone (7), Muirfield Village (5) and Augusta National (4). In contrast, Jack's winning number on his top six was 26%. Those are interesting numbers to me, but I'm not sure what to make of them.
Given the trend, I think you have to slot Tiger in for a Masters' win.
Off the wall thought: I wonder if getting Rory to switch clubs wasn't some sort of mad-genius plot by Tiger.
Speaking of Rory: The former number one will spend the week before the Masters on a humanitarian mission to Haiti. To avoid an LPGA-like outbreak, he should get some anti-malarial drugs and be sure not to eat or drink anything that doesn't come from a can. I suggest freeze dried food
, bottled water and a few gin-and-tonics.

If there's a theme to the Tour season thus far, it's the weather. Wind delays at Kapalua. Wind (and rain) at Bay Hill. Fog at Torrey Pines. Snow at the WGC-Match Play. There also have been storm delays on the European Tour. There's no doubt that the golf channel's highlight reels will have a lot of fun with this, but they're going to need a theme song for background. A few suggestions:

Blowin' in the Wind
The Wind Cries Mary
Dust In The Wind
Summer Wind
After the Storm
Against The Wind
Fire and Rain
Raindrops keep Falling On My Head
Mandolin Rain

The weather here at GolfBlogger World Headquarters in Michigan remains colder and more snowy than usual. I keep thinking about heading south for Easter break, but that'll be contingent upon finishing my taxes—a task that has been delayed for a number of reasons.

It had better warm up soon. My golf league begins April 12, and I need to get in some practice. I want to avoid frostbite at all costs, though. One case of golf course frostbite is enough.

After this past weekend, here are the top three in the FedEx Cup standings:

1. Tiger Woods; 1,605 points
2. Brand Snedeker; 1,282 points
3. Matt Kuchar; 902 points

And the European Tour Race To Dubai standings
1. Richard Sterne (South Africa) 607,803 euros
2. Charl Schwartzel (South Africa) 593,016
3. Sergio Garcia (Spain) 572,345

The Tavistock Cup will be played today (tuesday). Meh. Who cares?

March 26, 2013 | Category: News
Posted By The Original Golf Blogger
Interact: Permalink and Comments: 0 | Start a Forum Post | Email this entry

Belvedere Vodka, a brand with which I am entirely unfamiliar, has signed on as the "Official Vodka of the PGA of America." I guess that's the point of sponsorships, though. The PGA gives the brand widespread exposure. Still I wonder why the PGA of America thinks it needs an "official vodka."

Troon Golf management has added its voice to those opposing the anchoring ban. On their blog, Troon writes:
While we respect the USGA's leadership in the Rules of Golf, Troon supports the opinion expressed by the PGA Tour, the PGA of America, and the NGCOA, that banning anchoring is not in the best interest of the game. Our belief is centered on a desire to give all level of golfers more reasons to play and eliminate barriers that push potential players to invest their time and resources towards other leisure activities.
Doug Ferguson reports that Steve Stricker's original plan this year was to defend at Kapalua, and then walk away from the game entirely. I for one am glad he didn't. And I'm pretty sure Tiger also is happy Stricker stuck around. If Steve was in retirement, Tiger would not have gotten that putting lesson that launched him to a win at the WGC Cadillac. On the other hand, there are at least a hundred TOUR players who with that lesson had never been given.

March 15, 2013 | Category: News
Posted By The Original Golf Blogger
Interact: Permalink and Comments: 0 | Start a Forum Post | Email this entry
Obama Golf Becomes Sequester Issue
Texas Representative Louie Gomert has offered symbolic amendment to the continuing budget resolution
"None of the funds made available by a division of this act may be used to transport the president to or from a golf course until public tours of the White House resume."
Gomert says that furloughing 341 federal employees could have been avoided had Obama not traveled to Florida for a three-day golf trip with Tiger Woods. Overall, Obama has played 115 rounds of golf since taking office.
Masters Jacket Auction Stopped
A Dallas judge has stopped auction of Art Wall's 1959 Masters Jacket pending a trial to determine ownership. Augusta National claims the jacket was stolen, a charge the current owner disputes.
I wonder what this would go for at auction.
Nicklaus Says Tiger Better Get With It
Jack Nicklaus says that Tiger had "better get with it" to pass his record 18 Majors:
"I still think he can do it. But that said, he has still got to do it. He hasn't won one in five years. He had better get with it if he's going to."
Woods is in a severe Majors drought—one that rivals Nicklaus' drought between his seventeenth Major at the 1980 PGA Championship and the now-legendary 1986 Masters at age 46.

March 7, 2013 | Category: News
Posted By The Original Golf Blogger
Interact: Permalink and Comments: 1 | Start a Forum Post | Email this entry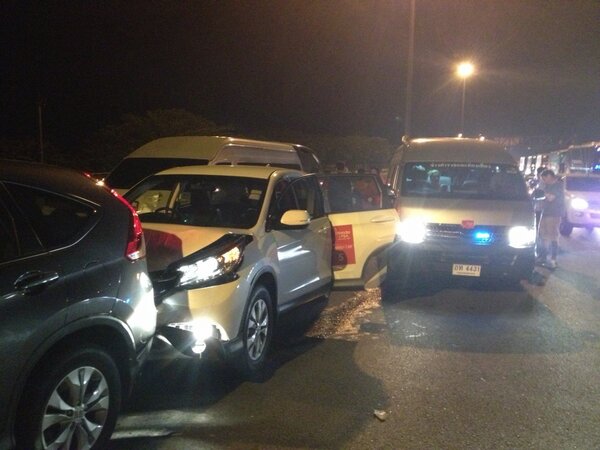 Paula Creamer, Suzanne Petterson and Ai Miyazato suffered minor neck injuries after a multi-car accident on the way to the airport following Sunday's final round of the Honda LPGA Thailand tournament. On Petterson's blog, she wrote:
On our way to the airport we were in a car accident! Paula , Ai , my mum and myself with the rest of our entourage! We were driving on the highway pretty fast and at times maybe to ruff. Meaning , no room for errors what so ever ! And it was just a matter of time we must say before something actually happend! Don't know how it all went down, but in a split second the entourage of our 5 cars was all crushed together! Paula said she felt like a ping ping ball being hit from both ends pretty hard! I was in the last car and manage somehow to just miss the rest! Out of all the cars , the car I was in was the only car suited to take us to the airport! We are just happy no one got more seriously injured from the impact! Ai and Paula and some of the guys had some pain in their necks! It was a scary split second, where u realize how quick it can go!
Over the last weekend, the PGA Tour joined the PGA of America and the Golf Course Owners in opposing the proposed anchor putting ban. PGA Tour Commissioner Tim Finchem said:
Our player advisory council looked at it twice. We had the USGA come in and make a presentation to a player meeting in San Diego and the USGA made a presentation to our board. We researched and looked at it and articulated our position at the end of last week to the USGA and shared that thinking also with the R&A.

Essentially where the PGA Tour came down was that they did not think that banning anchoring was in the best interest of golf or the PGA Tour.

"I think the essential thread that went through the thinking of the players and our board of directors and others was that in the absence of data or any basis to conclude that there is a competitive advantage to be gained by using anchoring – and given the amount of time that anchoring has been in the game – that there was no over-riding reason to go down that road.

An awful lot of amateurs today use anchoring and a number of players on the PGA Tour who have grown up with a focus on perfecting the anchoring method, if you will, did so after the USGA on multiple occasions approved the method years ago.

For us to join in supporting a ban we think as a direction is unfair to both groups of individuals. We have worked with the USGA over the last 20 years on a wide range of rules issues. I continue to hope that regardless of where this matter ends up that it gets there after a process that is good-natured, open and not contrary or divisive.
I fully expect the USGA and R&A to go through with their self-immolation, however.
A former Marine lied about having war injuries so he could get free golfing lessons, endorsements, cash, a trip to Iraq and to fulfill his dream of playing golf on the PGA Tour, court documents show.
The accused, Michael Duye Campbell, has admitted to defrauding charities of $40,000.
There's a special place in Hell for people like this.
In Pennsylvania, the state Attorney General has completed "Operation Penalty Stroke
Suspected drug dealers from Lackawanna, Susquehanna, and Wayne counties were brought in for arraignment in connection with "Operation Penalty Stroke".
"It's a big investigation, especially for here in Wayne County. Like at a golf course, I know this is my first investigation that dealt with dealing drugs out of a golf course," said John Soprano of the Attorney General's Office.

Angelo Pozza, 76, owns the Red Maples and police charged him as the ring leader of the scheme. According to cops, his place of business was where more than 15,000 grams of cocaine was stored and distributed.
Cathy Gabriel, of Scott Township, was charged with delivering the cocaine to Pozza. She allegedly brought the drugs from New York City to the golf course.

"It was the perfect front. It was innocent looking but it had the same amount and the same effect, the same damaging effect, as it would any other cover," said Deputy Attorney General Tim Doherty.
Looks like these Sopranos are on the other side of the law.

February 27, 2013 | Category: News
Posted By The Original Golf Blogger
Interact: Permalink and Comments: 0 | Start a Forum Post | Email this entry
Phil Mickelson Wins Phoenix Open

In Record Fashion
After narrowly missing a 59 on Thursday, Phil Mickelson tied the 72 hole scoring record in crusing to a wire-to-wire win at the Waste Management Phoenix Open. Needless to say, it was the best anyone has seen him play in years.
If he can carry this on to Augusta, this year's Masters' should be quite interesting.
Phelps Signs With Ping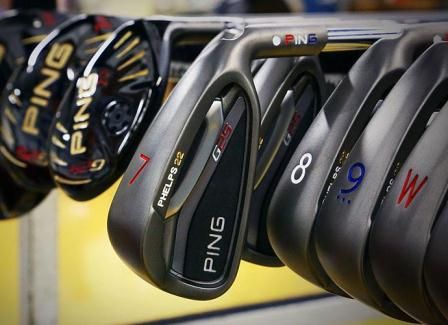 Now that he's hung up his Speedo, Michael Phelps has taken up golf. He'll appear on The Haney Project, and has signed an endorsement deal with Ping:
Ping outfitted Phelps with a custom-fit set of G25 woods, G25 irons, Tour wedges with Gorge Grooves and a new Scottsdale TR putter. For the 6-foot-4 Phelps, who carries a 21 handicap, Ping made the clubs 1 inch longer than standard, 3° upright and built up the grips by 1/32nd of an inch. Phelps also got a unique paint job.
The custom clubs have lettering in red, white and blue, and his name along with the number 22—for the 22 swimming medals he has won.
When he played the 2012 Dunhill Championship last year, Phelps famously sunk a 152 foot putt.
I don't know how serious Phelps is, or how swimming skills translate to golf, but given his capacity for practice, he may very well get better quickly.
History of Nike Golf
The Oregonian has an interesting article on the history of Nike golf. It didn't begin with Tiger Woods, in spite of the impression.
Nike Golf Timeline

1984

Bob Wood creates a business plan on golf for Nike.

Nike does very little in the way of golf apparel (promo shirts in small numbers).

The first line of Nike golf shoes is developed. The most successful shoe in the line is called the Turnberry- a "Field General" football upper with a rubber cupsole and metal spikes.
1985

Nike signs its first athlete, Seve Ballesteros of Spain. He appears on the first Nike Golf poster addressing a ball in a tree with the headline, "No Problema."

Golf footwear is managed as part of the "Cleated/Specialty" footwear department.

The first Golf sales force is hired.

Mark Bisbing is hired as golf's first sports marketing manager.

Nike signs Peter Jacobsen and Curtis Strange to footwear contracts.

US Women's Open champion Kathy Baker signs to wear Nike golf shoes.

Alice Miller and Juli Inkster sign to wear Nike shoes.

The first Golf catalog premieres; it features five footwear styles.
February 4, 2013 | Category: News
Posted By The Original Golf Blogger
Interact: Permalink and Comments: 4 | Start a Forum Post | Email this entry
I think that finding a career in golf likely is the dream of every serious player—and likely even that of dilettantes. To help people live their dream, the PGA of America will highlight employment resources and available jobs in its "Jobs In Golf Month" initiative, which kicks off Jan. 24 - 26 and lasts through February.

PGA.com/employment, home to PGA Employment Services, is the centerpiece of the Jobs in Golf Month initiative, and serves as the golf industry's online resource for jobs. In support of Jobs in Golf Month, PGA Employment Services is ramping up its available resources to ensure that PGA members, golf industry employers and individuals seeking employment within the golf industry have the tools necessary to maximize their career opportunities.

This is a good initiative from the organization that—whether we recognize it or not—most impacts the ordinary player's golfing life.

January 22, 2013 | Category: News
Posted By The Original Golf Blogger
Interact: Permalink and Comments: 0 | Start a Forum Post | Email this entry

"The human eye sees more green than any other color in the spectrum," according to Leatrice Eiseman, executive director of the Pantone Color Institute.

Pantone has declared "Emerald" the Offical Color of 2013, noting that green is the "most abundant hue in nature."

Perhaps the abundance of green rods in our eyes partly explains why golf courses seem so beautiful, even to non-golfers.

January 19, 2013 | Category: News
Posted By The Original Golf Blogger
Interact: Permalink and Comments: 0 | Start a Forum Post | Email this entry