Category:
Lifestyle
For many, golf is more than a game -- its a lifestyle. Golfers' obsession with the game comes out in their clothes, homes, reading material, vacation choices ... This section is for stories and articles about living the golfing lifestyle.
Golfing With Ida from Dustin Cohen on Vimeo.
Filmmaker Dustin Cohen has produced this beautiful 90 second film on Ida Pieracci, who at 102 still plays four or five days a week at the San Jose Country Club She holds the course record with eleven holes-in-one
February 3, 2015
|
Category:
Lifestyle
Posted By The Original Golf Blogger
Interact: Permalink and Comments: 0 | Start a Forum Post | Email this entry
Nick Gholkar has a few thoughts on golf and leadership.
It is worth nothing that many of our political leaders are golf enthusiasts. President Obama has played hundreds of rounds during his administration. President Clinton's foundation sponsors a PGA Tour event. Former and current Supreme Court Justices Sandra Day O'Connor and Anthony Kennedy play, as does Speaker of the House John Boehner, And perhaps most famously, President Eisenhower brought immense popularity to the game with his on-course exploits, and was a member of the famed Augusta National Club. Former Secretary of State Condoleezza Rice is one of the first two female members of Augusta National.
Add to this list William Howard Taft, Woodrow Wilson, John Kennedy, Lyndon Johnson, Gerald Ford, Ronald Reagan and Richard Nixon, Nick Gholkar says.
Business leaders, too, find the game attractive. Donald Trump is a fanatic, not only playing, but also buying and building courses. John Watson, the CEO of Chevron is a 1.8 handicap. Ian Reed, CEO of Pfizer is an 8.1. Steve Ballmer of Microsoft is a 10.3.
As a reflection of business' leaders interest in golf, every PGA Tour, Champions Tour, LPGA, European Tour et. al tournament is sponsored or supported by numerous corporations.
One study showed that CEOs who play golf are better compensated than non golfers and that there is a correlation between handicap and income. In 2010, a lawsuit was filed against Goldman-Sachs arguing that the company had a "male-dominated trading-floor culture centered on golf and other physical pursuits"
Playing golf is relaxing and a way to spend a few hours avoid life's everyday hassles, but that can't be all that these leaders find attractive in the game, says Nick Gholkar.
Success on the golf course, it turns out, has much to do with success in the larger world. Here are some parallels:
Golf is Self-Directed
With the infrequent exception of team events like the Ryder Cup, two ball games and scrambles, golf is a solitary pursuit. Even with the usual foursome, golfers play alone against the course. To play well, players must be driven—not by cheerleaders or pep talks from coaches—but by their own internal drive to succeed.
Successful leaders also are intrinsically motivated. While the ability to work with and inspire teams also is necessary, good leaders do what is necessary without immediate or extrinsic reward.
Golf Asks For A Positive Attitude
Few things are a deadly to a golf game as a poor attitude. A player who believes that his next show will go awry will be correct more often than not. Conversely, a player who believes in his swing can perform well even with a less than perfect swing. Jim Furyk's swing is idiosyncratic, but he believes in it completely and is a Major Championship winner.
A positive attitude also is a characteristic of successful leaders. Henry Ford said "Whether you think you can, or you think you can't, you will be correct."
Successful leaders find ways to channel positive energy into productive channels. They believe in themselves and their teams. They do not allow negative thoughts to interfere with their mission, notes Nick Gholkar.
Golf Requires Integrity
There are no flag throwing referees in golf. There are no umpires calling balls and strikes. Golfers must call keep track of their own strokes, call penalties on themselves and at the end of a round sign a scorecard to attest to the veracity of their score.
In the 1925 US Open, Bobby Jones believed that he had caused the ball to move as he took his stance to pitch to the green. Although no one else saw the ball move, he insisted that it had and informed his playing partner, Walter Hagen. Hagen tried to talk him out of it, but was unable to do so. Jones' penalty was the difference in the tournament and he would have to wait for another year for a win. He was widely praised for calling the penalty on himself, but Jones responded: "You may as well praise a man for not robbing a bank."
True leaders conduct themselves with integrity, setting an example for all around them. People must know that they can rely on the leader to do the right thing, even when others are not looking. Leaders who set the example of honesty then know that they can expect the same thing from their employees and team members.
Nick Gholkar quotes Tony Dungy, the great Colts coach who wrote "Integrity is what you do when no one is watching; it is doing the right thing all the time, even when it may work to your disadvantage."

Golf Demands That A Player Rebound From Failure
Golf is a game full of missed shots and missed opportunities. Even top pros cannot count on hitting more than a few perfect shots in a round. Bobby Jones said that he would perhaps hit six perfect shots in any competitive round. Once, Ben Hogan was asked to comment on a young Arnold Palmer's claim that he had hit ten perfect shots in the US Open. "That many?," responded Hogan.
What matters in golf is not how many good shots you hit, but how you respond to the bad ones and what you learn from them. There will always be far more bad than good.
Great leaders know that they will fail more than they succeed. Donald Trump has declared bankruptcy four times. Abraham Lincoln failed in business and lost multiple elections before finally winning the presidency. Absorbing the lessons of failure is an important part of learning to succeed.
Nick Gholkar has been a student at the University of Missouri - Kansas City where he studies accounting. He started playing golf at age 13, and has progressed steadily in the game. Nick Gholkar also plays tennis and scuba dives.
July 26, 2013
|
Category:
Lifestyle
Posted By The Original Golf Blogger
Interact: Permalink and Comments: 0 | Start a Forum Post | Email this entry
You've seen those SkyMall catalogs on airplanes. The Japanese apparently have something similar with their Train Shop magazine. The MyCaddie.JP photo blog, which I follow for its beautiful and often unusual golf photos, has a series of photos from the Train Shop catalog.
November 30, 2012
|
Category:
Lifestyle
Posted By The Original Golf Blogger
Interact: Permalink and Comments: 0 | Start a Forum Post | Email this entry
Ultimate Golf Songs
Grade: A
Ultimate Golf Songs is a fun little collection of nine golf themed soft-rock songs. The tunes are catchy, the lyrics (mostly) clever, and the entire thing professionally done. Here's a stanza from my favorite, One More Bird
Each hole is an opportunity
A chance for all to go right
To execute each shot perfectly
And bring feelings of joy and delight
One bird, want to yell the word, I want just one bird
One bird, it is not absurd, to want just one bird
and from Long Way, about the aftermath of a poor drive:
Head to the bag for something to assist
Look for a club that does not exist
Even a cannon could not shoot it that far
Select a mutant club, with dreams of a par
Even with its promises it is still hard to see
Reaching in anything less than three
Lots of good stuff here. Even my teenage boys thought it fun to listen to on a Geek-Dad-and-Geek-Boys Road Trip.
Recommended.

November 8, 2012
|
Category:
Lifestyle
Posted By The Original Golf Blogger
Interact: Permalink and Comments: 2 | Start a Forum Post | Email this entry
Donald Trump contemplates selling cemetary plots at his high end Trump National Golf Course. Memberships for the living there cost $500,000. There's no word on what it would cost for a plot on the proposed 1.5 acre cemetery. Golfers also may be able to have their ashes spread on the course.
As a (probably cheaper) alternative, a cemetery in Washington State has a design for a golf themed memorial park.
I actually think that there's an additional revenue stream here for many golf courses. Many wouldn't want graves alongside the fairways, but I should think charging people a fee to scatter their ashes on the course would be in the realm of possibility. Local ordinances probably would require permits, but I can't imagine that would be a big issue. I'm sure that there are many golfers who would like to spend eternity on their favorite track. Courses could also put up a wall with plaques on it to commemorate the golfers whose ashes were scattered there. As the median funeral cost is around $6,500, that would be a great deal for many courses.
Seriously.
February 2, 2012
|
Category:
Lifestyle
Posted By The Original Golf Blogger
Interact: Permalink and Comments: 0 | Start a Forum Post | Email this entry
A guest editorial:
Most sports can be enjoyed only in certain capacities. You may play the sport, or you may be a fan of watching it, but for most sports, that's about the extent of what you can get out of it: play it, watch the games, and follow the teams and players. For golf, however, things are often different for true enthusiasts of the game. There are a number of different reasons for this, one of which is that golf can be watched and played by people of all ages, and in all different walks of life, whereas other sports tend to be more restricted to certain ages.



To begin with, many golf fans make good use of services like those offered on satellitetvfamily.com, in order to gain tv access to more tournaments and events. Because golf, like tennis, is a sport that to some extent follows warm weather around the globe, there are tournaments being held during most of the year. With an expansive cable package geared specifically toward these events, a golf enthusiast can be able to keep track of these events much more closely. This can be very nice, as there is little that is more relaxing than watching a round of golf.



One thing that can be just as relaxing, however, is, of course, playing golf. For true fans of the game, nothing really beats heading out to the course with a friend or two in nice weather to shoot a round. In fact, there are so many fans of this sort of activity that there are now entire vacation packages geared toward golfers. Because there are so many different places in the world that are renowned for their golf courses, these vacation packages can be very interesting, and can lead to travel to some of the most fascinating parts of the world.



These are just a few examples of how golf can become, not just a game, but a lifestyle. In fact, people who really get into golf even go as far as structuring some of their clothing, or their food and drink, around golf. The simple fact is that this game is so popular, and so unique in its setting, that it has evolved from a sport into a culture that can be enjoyed by professional players and amateur fans on a very similar level. This can be a wonderful thing to have in your life, as it is centered almost entirely on relaxation, and can last for your whole life.
November 8, 2011
|
Category:
Lifestyle
Posted By The Original Golf Blogger
Interact: Start a Forum Post | Email this entry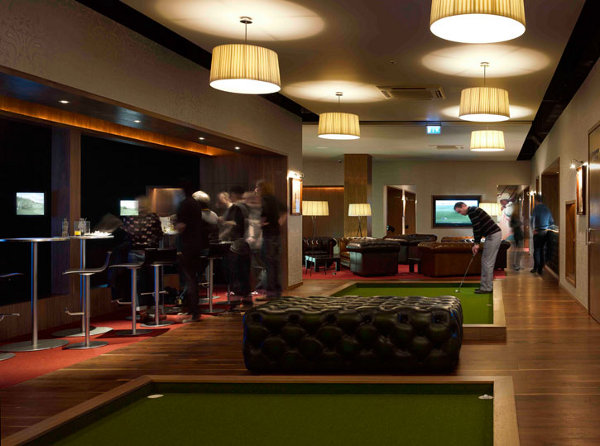 The Coolist has some neat photos of London's "Urban Golf Club." When I hit the lottery, I'm going to build a man-cave just like this one.
November 7, 2011
|
Category:
Lifestyle
Posted By The Original Golf Blogger
Interact: Permalink and Comments: 0 | Start a Forum Post | Email this entry