Category:
LPGA
Michelle Wie, Annika Sorenstam, Morgan Pressel, Paula Creamer ... Has the LPGA ever had such a marketable lineup? The next decade could turn out to be a very exciting one for the women's professional golf circuit.
Since 14-year-old Guan Tianlang played his way into the Masters with his win at the Asia-Pacific Championship it seems only fair that a player of similar age should play into the LPGA's first major of the year. Angel Yin of Arcadia, Calif. qualified for a spot in this week's LPGA Kraft Nabisco Championship (the "Dinah Shore" for us old-timers) with her win at the Kraft Nabisco Legends Junior Challenge. She shot at 5-under 67. No word on how long the course played for them.
I really don't know that to think of all this. At some level, I can't help but think that it makes a mockery of professional golf to allow children to play. On the other hand, if they've got the talent ...
Fourteen, it seems, it not too young for the ladies tour. Lydia Ko famously won her first professional tournament at fourteen—the New South Wales Open. Then she won the Canadian Women's Open at age fifteen.
A win by a young teen seems more likely on the women's side than the men's, given the earlier maturation. In terms of strength, a fourteen year old boy just doesn't have a prayer against adult males. A fourteen year old girl, on the other hand, might be much further along.
In any case, I suspect that we are going to see younger and younger players on both sides.
April 3, 2013
|
Category: LPGA, PGA Tour
Posted By The Original Golf Blogger
Interact: Permalink and Comments: 0 | Start a Forum Post | Email this entry
The Kraft Nabisco began as a 54 hole event, known as the Colgate Dinah Shore Tournament. It has always been held at the Old Course at Mission Hills Country Club. The inaugural event was won by Jane Blalock.
Nabisco became the sponsor in 1982. That year, the Dinah Shore was the first LPGA event to have all four rounds broadcast on national television (by ABC—always a friend to golf). The tournament was designed a "Major" by the LGPA the following year.
For those who are not old enough to remember, Dinah Shore was a singer, actress and pioneering television talk show host. Beginning her career in radio as a singer, she had her own program by 1943. During the Second World War, Shore was the first woman to visit troops at the front. After the war, she recorded more than 70 songs, including one called "Dinah", which gave her the nickname (her real name was Frances Rose). She had her own television variety and talk show starting in 1951. In the late '60s and '70s, the show was called "Dinah!" and was enormously popular (my mother watched it religiously). She certainly was the pioneer who made Oprah! possible. Shore died in 1994.
For the LPGA, Shore was a tireless promoter—kind of the Bob Hope of women's golf. Dinah Shore is the first—and only—honorary member of the LPGA Hall of Fame. She was awarded the Patty Berg Award for her contributions to women's golf.
Shore also left her mark in the traditional celebratory swim after the event. In 1991, she joined Amy Alcott for the dunk—the "swim at the Shore." Viewers are sure to see the swim again this year.
The current name of the tournament reflects Kraft's 2000 purchase of Nabisco brands. Kraft Nabisco's support for the tournament is very strong, offeirng a purse of $1.8 million.
It's a shame, though, that Dinah Shore's name no longer is associated with the tournament she started.
Mission Hills will play as a 6,569 yard par 72 for the tournament. The course was designed by Desmond Muirhead. The signature is the 531 yard par 5, with an island green sitting right in front of the clubhouse.
April 2, 2013
|
Category:
LPGA
Posted By The Original Golf Blogger
Interact: Permalink and Comments: 0 | Start a Forum Post | Email this entry
The LPGA has an inspiring video about Karen Stupples' weight loss program. Over the last year, she's gone from a size 12 to a size 4.
Watching her do the exercises, I can't help but think how it disabuses the notion that professional golfers are not athletes.
March 22, 2013
|
Category:
LPGA
Posted By The Original Golf Blogger
Interact: Permalink and Comments: 0 | Start a Forum Post | Email this entry
Natalie Gulbis was forced to withdraw from the LPGA's Founders tournament this week because of a case of malaria she apparently contracted during the Tour's Asian swing. Malaria is not a disease that is on our radar in the US, but the parasitic infection causes more than a million deaths each year, mostly in Africa and Asia. Malaria is thought to be the single greatest cause of death in human history.
The good news is that today, malaria can be effectively cured.
If you enjoy a gin and tonic after a round, you may be interested in the drink's malarial connection. The story begins with quinine, an extract of the bark of the Peruvian cinchona tree. The bitter substance was used by native peoples for a variety of medicinal purposes. When mixed with sweetened water, it was known as "tonic water." Europeans are known to have used tonic for malaria treatment as early as the 1600s. It wasn't a cure, but would inhibit the symptoms and side effects.
It was in the 1800s that British soldiers in India mixed tonic water with gin, lime and sugar to make the malarial treatment more palatable. Thus, the Gin-and-Tonic was born.
More random facts: the quinine in tonic water makes it fluorescent.
March 15, 2013
|
Category: History, LPGA
Posted By The Original Golf Blogger
Interact: Permalink and Comments: 0 | Start a Forum Post | Email this entry
The Founders Cup was established in 2011 as a tribute to the thirteen legendary founders of the LPGA: Alice Bauer, Patty Berg, Bettye Danoff, Helen Detweiler, Marlene Bauer Hagge, Helen Hicks, Opal Hill, Betty Jameson, Sally Sessions, Marilynn Smith, Shirley Spork, Louise Suggs and Babe Didriksen Zaharias.
The tournament started amid controversy over its unique format. In 2011, the players were not paid and the entire purse went to charity. Players did receive "virtual" earnings that qualified them on the LPGA's official money list.
It probably wasn't the best idea. The LPGA at the time was short on both tournaments and opportunities for the players to earn income and the notion of playing for free did not sit well with many.
In 2012, the tournament expanded from three days to four and real cash payouts were begun.
The tournament is played at the Wildfire Golf Club at JW Marriott Phoenix Desert Ridge Resort & Spa in Phoenix, Arizona. The Arnold Palmer design is a 6,583 yard par 72.
The title sponsor, RR Donnelley is a Chicago-based printing company.
A list of past winners follows:
March 11, 2013
|
Category:
LPGA
Posted By The Original Golf Blogger
Interact: Permalink and Comments: 0 | Start a Forum Post | Email this entry
PGA Tour - Honda Classic
Th 2/28 3:00 - 6:00 PM GOLF
Fr 3/1 3:00 - 6:00 PM GOLF
Sa 3/2 1:00 - 3:00 PM GOLF
3:00 - 6:00 PM NBC
Su 3/3 1:00 - 3:00 PM GOLF
3:00 - 6:00 PM NBC
and on Sirius Radio
TH 2/28 12:00 - 6:00PM XM 93
FR 3/1 12:00 - 6:00PM XM 93
SA 3/2 12:00 - 6:00PM XM 93
SU 3/3 12:00 - 6:00PM XM 93
LPGA - HSBC Women's Champions Singapore
Th 2/28 12:30 PM -2:30 PM GOLF
Fr 3/1 12:30 PM -2:30 PM GOLF
Sa 3/2 6:30 PM -9:30 PM GOLF
Su 3/3 7:00 PM -9:30 PM GOLF
February 27, 2013
|
Category: LPGA, PGA Tour
Posted By The Original Golf Blogger
Interact: Permalink and Comments: 0 | Start a Forum Post | Email this entry
As I was writing over the weekend about the ISPS Hansa Women's Australian Open and looking forward to the Honda LPGA Thailand, it struck me just how much professional golf has become a global game. It has also greatly expanded my bucket list of places to play.
This year, the LPGA will play tournaments in fourteen different countries: the United States, Canada, Mexico, Australia, Thailand, Singapore, Scotland, France, China, South Korea, Malaysia, The Bahamas, Taiwan and Japan. It is truly a global tour played in some spectacular settings. Images from the Siam Country Club, where this week's Honda LPGA Thailand is played are stunning:
On the Men's side, the European Tour has existed since 1972, but has in recent years expanded with events in the Middle East and Asia. The exposure gained by the Emirates with European Tour events has, I am certain, changed a lot of minds about the possibilities of desert golf.
The Sunshine Tour of South Africa has several events co-sanctioned by the European Tour, and seeing those courses on the Golf Channel puts South Africa high on my list of places to play.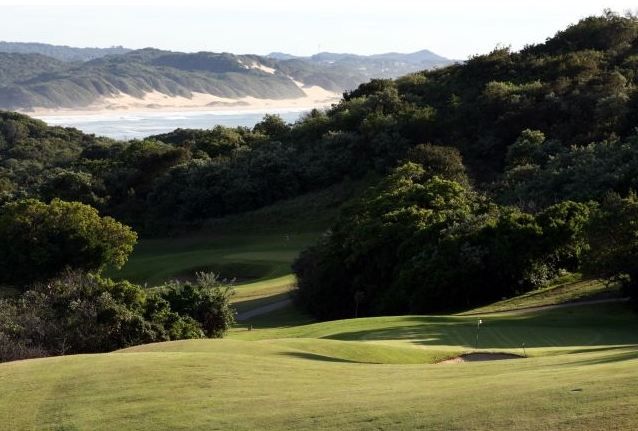 East London Golf Club, South Africa
Aside from the spate of European Countries, the European Tour plays in South Africa, the Arab Emirates, India, Malaysia, Morocco, South Korea, China and Australia.
The PGA Tour of Australasia plays in both Australia and New Zealand. With courses like Cape Kidnappers, New Zealand is making a name for itself in golf.
The regular PGA Tour still is US oriented, traveling only to Puerto Rico (a US territory, to be sure), Canada, Mexico and China (WGC event). The Web.Com Tour, on the other hand, has stops in Panama, Columbia, Chile, Brazil and Mexico.
In additon, the PGA Tour has since 1012 offered the PGA TOUR LatinoAmerica, which this year will hold events in Columbia, Brazil, Puerto Rico, the Dominican Republic, Chile, Peru and Argentina. If any of these get broadcast time, they are sure to draw some eyeballs with the scenery.

Golf In Argentina
Finally, there's the curious case of the defunct-but-risen Canadian Tour. Last year, the Canadian Tour was given a significant loan and logistical support by the PGA TOUR in an effort to keep it alive. By the end of the season, however, the PGA TOUR had absorbed the Canadian Tour entirely. It is now the PGA TOUR Canada.
Canada probably is not a country that people think of as a premier golf location, but it has some spectacular courses. Places such as Banff are internationally known, but it also has some beautiful local courses, such as Loch March Golf in Ottawa. Canada is just an hour from GolfBlogger World Headquarters, so I may play my first international golf there.

Loch March, Ottawa, Canada
The side benefit of that is that I could enjoy a few Cuban cigars while in that country.
With the addition of the PGA TOURS Canada and LatinoAmerica, the PGA Tour has become a multi-continental entity that actually plays in more countries outside its core area than the European Tour. (Assuming you count Europe as a single entity. If you count every individual European country, then it's quite a different story. At that point, however, you should also count every single US state, since many of those are larger than European countries in both population and land mass).
Any way you slice it, though, golf is increasingly becoming the world's game.
February 19, 2013
|
Category: European Tour, LPGA, PGA Tour
Posted By The Original Golf Blogger
Interact: Permalink and Comments: 0 | Start a Forum Post | Email this entry