Adams Speedline F12 Three Wood Review
June 21, 2012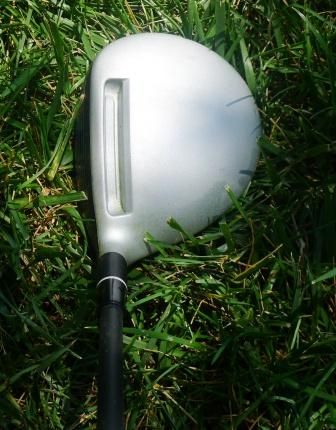 Adams Men's Speedline Fast 12 Fairway
Grade: A
Teacher's Comments: After I got used to it, I found it to be as long—or longer—than any club currently in my bag.
Here's the thing you really want to know about the Adams Speedline Fast 12: it's long. In side-by-side testing, it surpasses my trusty R7 TP 3 wood and off the tee, rivals my driver.
But (and there's always a "but," isn't there?), I haven't found it as easy to hit as the Adams pedigree might suggest.
My first awareness of Adams was as an upstart manufacturer with an unusual "upside down" clubhead design (first pioneered by a company called Concorde, but that's another story). The result was fairway woods that indeed seemed easier to hit than traditional designs. Over the years, I've owned a couple of Adams "Tight Lies" models, and currently have an RPM wood in my bag. The hallmark of all of those Adams clubs has been that the shots they produced were never as bad as the swings I made. I could always count on a Tight Lies or RPM to keep the ball moving along, even when I totally lost my mojo.
(Side story: Stewart Appleby laughed at my Adams 11 Wood when I played with him at the Crowne Plaza Invitational Pro-Am. After I hit the green on a long par three over water, though, he asked to see it and took a couple of swings himself. I guess they don't see an 11 wood often on Tour)
The Speedline Fast 12, however, seems to give up some of that legendary Adams playability for distance. This isn't to say that it is hard to hit. I just don't think it meets the very high playability standard set by previous Adams clubs. Indeed, I initially had some trouble learning to hit the Speedline effectively. Rather than sweeping the ball off the turf, I was digging in behind. As I've gotten more rounds in under my belt, however, I've begun to hit it with much more effectiveness. The trick was to move the ball a little more forward in my stance from where I had been playing my R7 TP.
The Speedline F12 three wood actually has resided in my bag since March (as an illegal 15th stick), but I've been waiting to write about my impressions because I just wasn't hitting it well.
Did I mention that the club is long? It's also very straight. Shots just go straight down the middle. I have to accommodate a little bit of a slice on my TP, so that required a bit of an adjustment also.
For me, a three wood is primarily a second-shot-on-a-par-5 and a second-shot-after-a-bad-drive-on-a-par-4 club. On my round this morning, I used the Speedline effectively in both those roles. That extra little few yards of distance saved me a couple of shots on two of the par 5s, allowing me to hit a pitching wedge into the green and close to the hole. It got me on in regulation on a par 4 where after my pop-up drive, I was still 210 to the green. Nice.
Off the tee, I think the Speedline Fast 12 works for me better than it does from the fairway. It's long (I think I mentioned that) and like most three woods more accurate than a typical driver.
Finally, the other—and perhaps more unorthodox—use I have for a three wood is as a gigantic putter. Whenever I'm off the fairway and lying under some overhanging branches, I "putt" with my three wood. With a motion like an overlong lag with a putter, I keep the ball on the ground, rolling and bounding toward the hole without fear of getting caught up in a tree. I've also been known to use the same "giant putter" technique from the fairway to an open green. I'm quite good with it, actually. The Speedline works quite well in this role.
A lot of interesting design decisions went into the Adams Speedline Fast 12. The most obvious are the "Velocity Slots" on the forward crown and sole. These are intended to create more flex across more of the face, increasing the ball speed regardless of the actual point of impact. They also help to get the ball airborne. I'm convinced that the slot also helps keep the ball on line.

The shaft has an unusual finish. It's gritty, like a piece of fine sandpaper. Adams calls this a "Speedcoat" and like dimples on a ball, it is supposed to increase "airflow attachment" and thus reduce drag. Less drag equals more speed. More speed equals more distance.

I like the traditional shape of the head—I've had more than enough of the strange "geometric" designs. The slot did take me some getting used to, though. Ultimately I found it useful in framing a subset of the face for setting up to the ball and lining it with my intermediate target mark.
The matte silver paint scheme is a bit drab, looking like a throwback to the original dull metalwood colors of fifteen or twenty years ago. The color does, however, nicely offset itself from the back face.
That's all just aesthetics, though. The real thing to remember about this club is that it's LONG.
Note: the model I tested was a 15 degree stiff shaft, provided by Adams for testing.
As a long aside, I wonder what the fate of Adams Golf will be now that its been bought out by Adidas (parent of TaylorMade). Will it continue to be an independent operation, offering innovative club ideas. Or will Adams become an afterthought, selling clubs that are left over from the flagship brand's R&D labs. Adams history of creative thinking about golf would be sorely missed if it were the latter.
A few more publicity photos of the club follow: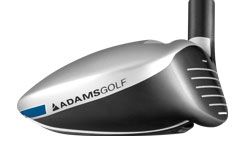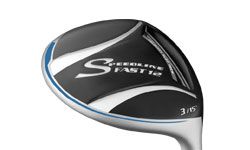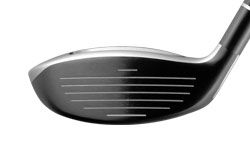 Posted By The Original Golf Blogger
Legal Information, Privacy Policy, Comment Policy and Disclaimers